Alternative Radisson tower plan put forward as backlash builds
March 10 2021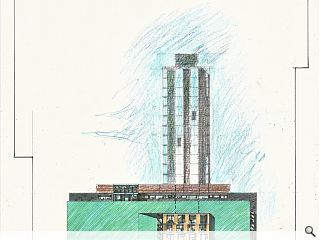 Radisson Blu architect Alan Dunlop has set out alternative plans for a 150-room expansion of the Glasgow landmark, after plans for a 'bold' aluminium rainscreen rooftop extension elicited an outcry.
Plans drawn up by Maith Design seek to extend the monolithic form of the current building by resting a three-storey picture frame extension on structural colonnades around a recessed louvre-screened plant area. This drew scorn from many observers, not least Dunlop himself who labelled the plans as 'over-scaled, brutal and clumsy' while others such as architect Andrew Brown asked: "If it ain't broke why fix it?"
Now Dunlop has come forward with sketch proposals for another dramatic intervention, accommodating the necessary additional accommodation within a projecting tower that would stand as a more sympathetic 'foil' to the body of the hotel below.
Dunlop told Urban Realm: "I discovered that all the original concept and context analysis supporting the roof extension is copied directly from my own writing. The document includes street views, block plans and multiple 3D views but concludes with the most elementary, least imaginative and crudest, commercially driven proposal. Therefore, I spent a few hours planning how you might extend the Radisson in a way which is conducive to the ideas and context fundamental to its original design. Then made these rough sketches.
"A tower, rising from the courtyard could give you, by my estimation 150 rooms. The height of the tower is determined by the adjoining buildings included as context within the proposed extension but it could be higher. This is just one simple idea, sketched in plan and drawn roughly afterwards, I know there are others."
Architecture critic Robin Ward commented: "This exhilarating building, conceived two decades ago, remains a landmark of contemporary and contextual design. The front elevation - a full-height, canted copper screen like the hull of a great ship - was inspired by Glasgow's industrial past, rendered in a completely original way. Showy as it is, both in materiality and manner, it was scaled to fit the existing Victorian streetscape. The proposal, to add a clunky addition above it, is by far the most ill conceived intervention I have seen recently and the least respectful of its host.
"Alan Dunlop's alternative -- a slender tower, perhaps with a reflection of the copper screen's ship's prow at its peak - would be preferable; an evolution rather than a desecration of a unique design."
For now the fate of the hotel rests in the hands of city planners who have the final say in whether to allow the scheme to proceed in its present form.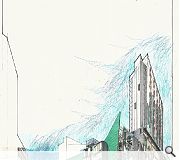 Dunlop envisages stacking accommodation vertically on a smaller footprint to stand as a 'foil' against original elements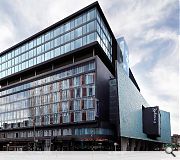 Maith propose a 'monolithic' extension which replicates the footprint and arrangement of the floors below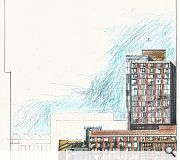 The tower would rise above a ballroom at the heart of the hotel
Back to March 2021