Emergency George Square social distancing measures to be updated
March 10 2021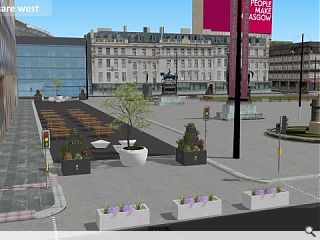 A new report outlining measures to facilitate physical distancing at George Square has been prepared by Glasgow City Council as part of the Spaces for People programme.
The package of works builds on a series of temporary walking and cycling measures introduced across the city centre such as widened footpaths and automated traffic lights in a £7.5m programme managed by Sustrans to encourage active travel.
Now the focus is on George Square where temporary water-filled barriers will be replaced by a more attractive long-term solution. The report stated: "Ambitious plans to re-allocate road space in George Square, the city's primary civic space to walking, wheeling and cycling, were drawn up and have been implemented using water filled barriers. These measures will soon be replaced by 'softer' planters, seats and other street furniture.
"Large scale hostile vehicle mitigation rated planters and trees will be used to green the space as well as restrict vehicle movement and protect pedestrians."
These works are expected to complete before the month is out with further complementary work to St Vincent Street and Queen Street completing by 15 May.
The George Square improvements follow the success of the Kelvin Way active travel corridor where temporary planting has been introduced to line a segregated cycle route, part of 28km of new cycle routes around the city.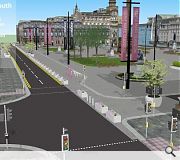 55 raised planters will reinforce carriageway segregation
Back to March 2021