Contemporary Ayrshire farmhouse to follow the lie of the land
March 4 2021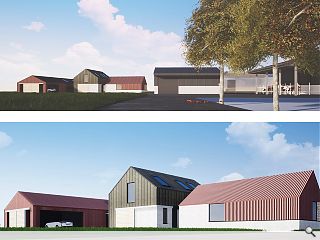 LMA Architects have lodged plans for a large modern farmhouse near Auchengate in rural North Ayrshire, designed to blend into the rolling countryside.
Auchengate House is modelled on the agricultural aesthetic around it with a clustered arrangement of living, dining and garage components mitigating against its scale in the landscape.
Outlining their design the practice said: "While generous in size, it is discreet in appearance, continuous in scale and language with surrounding agricultural setting of both the site overall and the broader recognisable rural appearance.
"The design splits a conventual overall large domestic form into a cluster of simple shapes, robust, practical and typical of the wider agricultural character. Clipped eaves and hard-wearing materials further echo the familiar aesthetic to create contemporary rural forms in the landscape.
"The proposals adopt two architectural treatments relative to the siting in the landscape. A solid appearance is maintained to the road facing front elevations, with a much more open and softer domestic feel to the rear, overlooking the land and nearby golf course."
Formed from hardwearing agricultural materials such as corrugated and profiled metal cladding, timber and concrete the home will feature projecting eaves at the gable ends to frame views of farmland.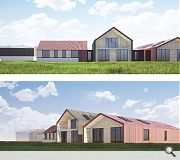 LMA Architects have recently picked up a number of private one-off house commissions
Back to March 2021