Edinburgh planners welcome New Town deck and terrace vision
March 3 2021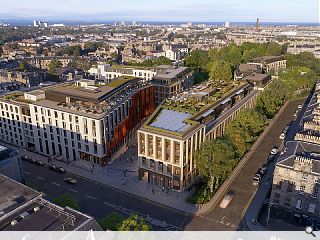 10 Design has won approval for a major redevelopment project in Edinburgh's New Town to transform the sprawling former Royal Bank of Scotland headquarters on Dundas Street into a mixed-use district built on a series of green decks and landscaped terraces.
The New Town Quarter is being delivered by Ediston and Orion Capital Managers and will deliver 80,000sq/ft of office space, 350 homes and a public realm to better connect Dundas Street to King George V Park.
Central to this goal will be the creation of a series of landscaped terraces to manage precipitous level changes and establish new east to west links on car-free green decks lined with retail, leisure and community spaces.
Gordon Affleck, design partner at 10 Design, said: "The site has offered a unique opportunity to reconnect the park to the north andwest of the city. Respecting both the sensitivity of its location with the New Town and the complexities of the physical restrictions of the site has proved challenging, however we believe the quality and diversity of the development uses and the new public realm will create a focal point and positive amenity for both the local and wider community."
Introducing a population density of up to 165 people per hectare the urban quarter aims to bring new life to one of the last remaining significant development sites in the New Town.
Back to March 2021