Cantilevered extension elevates Cairngorms living to new heights
February 26 2021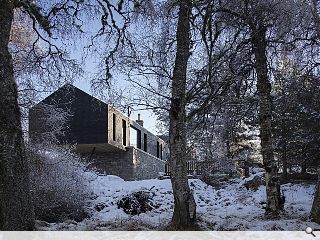 Brown & Brown Architects have completed the metamorphosis of a traditional home in the heart of the Cairngorms National Park with a striking timber, glass and stone extension.
Removal of a dilapidated steading opened up the opportunity for a contemporary extension formed of large elevated social spaces and a guest annexe. Together with the refurbishment of the main house, the result is a flexible home better suited to modern living and the practical needs of a large family.
In a press statement, the practice wrote: "The client originally came to us with the brief of extending the existing house into the adjacent steading, which was 3m lower than the house, and 6m away, in addition to being on an irregular angle to the house. Our approach was to take down the steading, reusing the materials from it, before creating a replacement stone plinth, atop which could sit the main body of the extension, allowing for consistent floor levels between the historic and contemporary elements."
Site constraints guided the use of a cantilevered upper floor to maximise entertainment space while permitting access below for a cherished 1960s Ford Falcon between exposed steel columns.
A building of two horizontal halves the double-height extension rests on a heavy masonry plinth with the lightweight timber and glass social space carried above its shoulders.
Back to February 2021