Galvanizing and Sustainable Construction
October 1 2008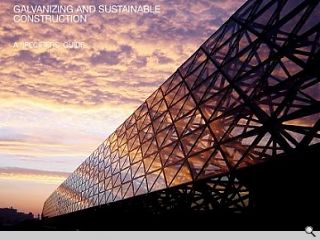 The sustainable benefits of galvanizing, a means of providing long-term corrosion protection to steel by way of coating it with molten zinc, has been highlighted in a new report, Galvanizing and Sustainable Construction.
In the absence of an agreed system of environmental assessment, Galvanizers Association have taken the lead in putting its sustainable credentials to the fore. By publishing this study the sustainable advantages of galvanized steel can be brought to the attention of architects, specifiers, engineers, developers and their clients.
The guide attempts to bring to bear independent statistical evidence on the benefits of galvanizing as opposed to competitor technologies, such as paint. To this end Professor Tom Woolley, a well known architect and environmental researcher, has been drafted in to co-author the report.
The authors draw on academic and scientific studies of the environmental impact of the galvanizing process and its alternatives. Against this a number of proven assessment tools are applied to examine the issue on a whole life basis, from raw materials extraction to final disposal.
Iqbal Johal, Galvanizing Association marketing manager explains: "The challenge for those trying to reach conclusions and make decisions is not just sifting through the mountain of environmental claims, but finding a level playing field upon which sound judgements can be based. The demand for black and white answers to the question of sustainability is arguably fuelling this confusion, but the uncomfortable reality is that this is a grey area, despite the many claims to the contrary."
Tom Woolley adds: "When choosing building materials and products, those involved will increasingly be concerned about environmental issues. This may be because rules, regulations and policies enforce this or because of a genuine ethical decision to ensure that buildings are as sustainable as possible."
The report, together with additional materials and information, is available from a dedicated website,
www.sustainable-galvanizing.com
or by calling Iqbal Johal at Galvnizers Association on +44 (0) 121 355 8838.
Back to October 2008