Green light for PARC
October 1 2008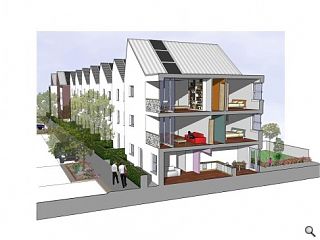 A total of 58 new homes have been given planning consent at The Square, Craigmillar. This is the latest phase of a 15-year vision to breathe new life into the area by PARC, the organisation spearheading the £200million regeneration programme.
The homes have been designed by leading Edinburgh based architects, Smith Scott Mullan Associates. Alistair Scott, director, comments: "We have focused on lifestyle and technical issues, creating homes that are both economic to run and inspirational to live in.
"Highly energy efficient, with standards substantially in advance of current regulations, the homes achieve this through a high level of insulation and the use of a direct solar system to contribute to water heating."
The development includes terraced and mews houses, duplex apartments and conventional flats, and there is a strong relationship between the design of the buildings and the newly completed adjacent joint campus primary school.
This phase will also incorporate homezones, giving pedestrians equal priority with vehicles, meaning that traffic and pedestrian spaces will merge into one with no raised pavements, road signage or markings.
With a range of one and two bedroom flats and four bed family houses, residents will enjoy a mix of private and public landscaped gardens, overlooking private communal courtyards. They will also have access to their own secure, shared gardens with plenty of green spaces for children to play.
With more than 3,000 homes in the pipeline, PARC has already welcomed its first new residents. Housebuyers flocked to the area with appointments to reserve the first plots snapped up in just 12 minutes of phone lines opening.
Each homebuilding phase at Craigmillar will be different, reflecting contemporary and distinctive design, whilst inside, the homes will offer high-quality specification on a range of options and styles.
Incorporating a vibrant new town centre, Edinburgh's new Green Quarter stands approximately two miles from the city centre. The site stretches from Arthur's Seat in the north, to open countryside in the south. Cameron Toll shopping centre is to the west and Fort Kinnaird to the east, with less than a mile to each.
The PARC major investment programme will include a new town centre, new primary schools, a new community high school and library, and 150-acres of surrounding green space transformed into a network of parks, river walkways, open woodland, play areas and a new community woodland and arboretum.
Back to October 2008