Co-living demand on the rise in Leith
February 25 2021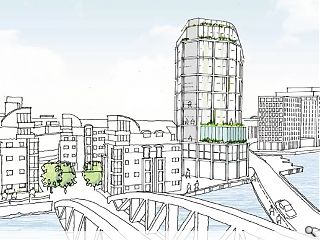 Union Property Services are proposing the complete redevelopment of an outdated office block at 1 Rennie's Isle to allow for a high-density mixed-use replacement.
Rising on the same footprint as the current build the goal is to establish a 'significant local landmark' to serve as a backdrop for a historic Victoria Swing Bridge and complement other proposed towers at Skyliner and Ocean Terminal.
Housing a mix of apartments the car-free design is being led by Sheppard Robson and will incorporate a range of social and commercial spaces such as ground-floor co-working units, a shared 'artisan workspace' and communal social spaces.
Demolition of the existing office block won't commence for six months at the earliest with the construction process itself taking around 18 months to complete.
A virtual consultation will be held between 15 March and 26 May at which the proposals will be revealed in more detail.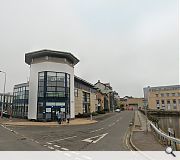 Work could commence as soon as a demolition and building warrant is in place
Back to February 2021