Cycle expressway leads 2025 George Street vision
February 25 2021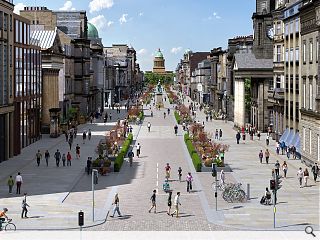 The City of Edinburgh Council has released the first detailed artist's impressions of a revitalised George Street under its New Town Public Realm Improvements Project.
Widened pavements, landscaped multi-use spaces and a cycle expressway are at the heart of the vision which will largely remove vehicle traffic from the famous street.
A full overhaul by consulting and engineering firm Tetra Tech with LDA Landscape Design will also strip away unnecessary clutter, segregating pedestrians and cyclists with shrubs and hedges. The largely car-free cycle route will then connect to the separate Meadows to George Street and City Centre West to East links.
Councillor Lesley Macinnes said: "These animated concept designs offer an exciting glimpse into what George Street and the surrounding area could look like in 2025 – a welcoming, relaxing and unique space, where people will want to spend time, to visit local shops, cafes and restaurants and to travel to and through the city centre.
"This vision has been years in the making and follows significant engagement with the public and a range of groups representing different interests. It's essential that its design works for everyone, which is why we've spent time ensuring it meets people's access needs, that it allows residents to go about their daily lives and that it will encourage local businesses to flourish, particularly as we look to make a strong, green recovery from the COVID crisis."
Further refinement of the plans will be carried out in line with public feedback with the finished design going before the city's Transport and Environment Committee in April. All going well the £32m scheme could commence construction by 2023 for completion by 2025.
Back to February 2021