BP retrenchment paves the way for Aberdeen green campus
January 17 2021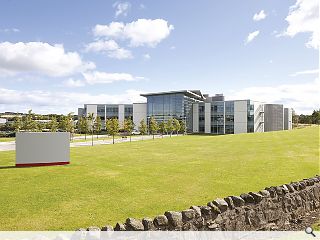 The Aberdeen headquarters of oil giant BP is to be reimagined as a net-zero carbon exemplar by CDA Architects following their appointment by LaSalle Investment Management.
BP is scheduled to vacate the Wellheads Avenue campus in Dyce by December 2022, part of a downsizing to 100,000sq/ft premises at Aberdeen International Business Park.
Following this, the 210,000sq/ft campus will be reinvented by CDA for occupation by organisations playing their part to position the city as a UK 'sustainability powerhouse'.
Shaun Reed, fund manager at LaSalle, said: "The iconic Wellheads Avenue campus has played an important role in Aberdeen's recent past, and we are preparing for it to play a key role in the city's future as the focus on sustainability and the transition to renewable energy move to the top of the agenda.
"The 210,000 sq ft office will be ideally placed to form a hub or headquarters for organisations with sustainability central to their values."
BP's HQ has already earned a BREAAM 'Very Good' rating and includes features such as a rainwater harvesting system to flush toilets.
Back to January 2021