At-risk Glasgow office block earmarked for serviced apartments
November 23 2020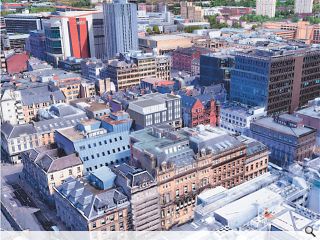 A B-listed office block in Glasgow city centre which has remained vacant for a quarter of a century, falling onto the Buildings at Risk Register in the meantime, is to be put back to use as serviced apartments for short-term rental.
55 West Regent Street has lost much of its internal fabric over the years and will be extensively remodelled by Wellwood Leslie including the addition of a three-storey extension to the rear on West Regent Lane to accommodate a mix of 96 one-bedroom and studio apartments.
This will necessitate a significant reconfiguration of the roof which will follow the pitch of the current roof at fifth-floor level with the new addition rising behind in tiers through a newly created seventh and eighth floor.
In a statement of intent, the architects observed: "The internal layout of the facility has been designed wherever possible to align with the existing major structural walls and ensure the existing window configuration is not compromised in any way. A new additional enclosed fire exist stair is now incorporated within the building footprint to ensure compliance with current building regulations in terms of fire escape. the proposed roof extension is laid out in a manner to reflect the existing lower levels and elevational articulation.
"The proposed reconfigured roof will sit comfortably between the existing stone bay window vertical element to the east and the existing sandstone gable element to the west. At sixth floor level it will sit behind the line of the existing stone chimney. The proposed roof will be finished in matt dark grey cladding to match the existing slate roof colour with glazing arranged in reference to the classical façade."
A south-facing terrace will be created as part of these works for residents of the uppermost level.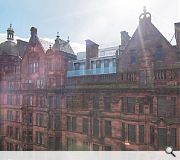 The classical façade will be renovated as part of the plans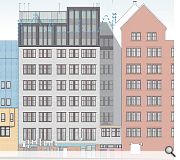 The new extension is designed to 'mimic' the massing of Castle Chambers next door
Back to November 2020