Anne Rowling Neurology Clinic set for expansion
December 21 2020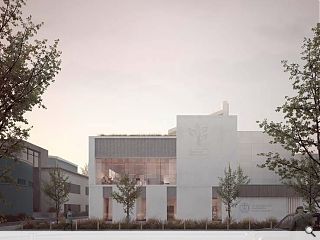 Keppie Design and the University of Edinburgh have set out proposed designs for an extension to the recently completed Anne Rowling Neurology Clinic at Edinburgh Royal Infirmary.
Additional research and facilities are planned to accommodate further growth after author JK Rowling donated a further £15.3m to boost research into Multiple Sclerosis and similar neurological conditions.
The chosen approach will necessitate the demolition of the western portion of the current building to permit construction of a new extension plugged directly into existing facilities with a dedicated vertical connection space including informal seating and additional meeting points.
Incorporating a new entrance and a therapy gardens the double-storey extension will include limited ground floor glazing to maximise privacy with more generous glazing above to maximise daylight and views to workspaces. A rooftop amenity deck will also be created.
In a design statement, Keppie wrote: "The existing building, while relatively new, has weathered extremely well due the simple, high-quality material palette. The new extension will look to complement the existing building, utilising a similar, pre-cast concrete finish and large glazed elements in its composition. Where window openings are introduced, textured concrete spandrels will reference the rhythm and tone of the existing zinc roofing."
Improvements to the existing reception space will see the waiting area transformed into a research cafe to allow visitors to meet with consultants in relaxed surroundings.
Back to December 2020