Consultation kicks off efforts to deliver 84 Springburn homes
December 8 2020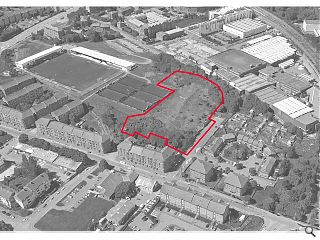 Bruach Design and Merchant Homes have instigated a public consultation in which they detail proposals to develop vacant ground at Southloch Street, Springburn, with 84 flats for social rent spread across four blocks.
Latterly home to Petershill Football Stadium (since relocated to the immediate west) the proposal seeks to re-establish the urban block by extending the building line established by adjacent tenements.
Entrance buildings will form a gateway to the site interior with the dual aspect flats enjoying access to private gardens and set within retained woodland.
In a statement, Bruach wrote: "The proposals are to build 84 flats within 4 separate four-storey common close flatted blocks. The flats will be a variety of sizes, and all flats will be dual aspect taking advantage of the elevated position of the site.
"Landscaping will be an important aspect of the development with the new proposals including a considered landscaping scheme that will provide enhancement to the area and compensate for any landscaping that is removed.
"We welcome feedback and comment from the local community and look forward to receiving any comments you may have on the proposal to develop this site."
A proposal of application notice was filed on 10 September.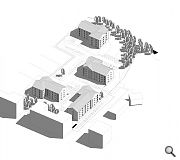 A footpath will connect directly to Petershill Park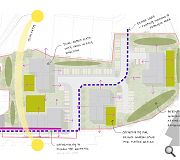 Feature gables will flank the entrance from Southloch Street
Back to December 2020