Dumbarton townscape improvements tackle first impressions
December 3 2020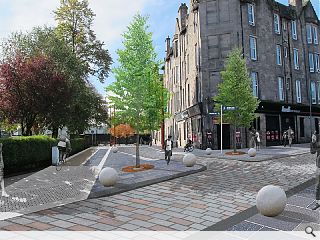 West Dunbartonshire Council has unveiled proposals for a series of public realm improvements between Dumbarton Central station and the town centre.
Designed to improve connectivity, the environment and the townscape the first phase of works will introduce a dedicated pedestrian and cycle route along College Street to the Artizan Shopping Centre.
Plugging into the existing National Cycle Network the route will be more clearly defined and realigned to augment traffic-free areas of the town centre with segregated cycle and walking routes employing resin bound gravel and natural stone paving slabs respectively.
Later projects will focus on Station Road, with improved lighting to an underpass connecting to Bankend Road including raised table crossings, new planting, street furniture, signage and (potentially) public art referencing Dumbarton's historic glass manufacturing industry.
Ideas for site-specific artwork include references to the process of glass blowing and the round discs of Crown Glass making as well as personal objects known as frigates, which were made by glassmakers in their own time using leftover materials. Local landmarks such as Minnie Steeles sweetie shop will also be referenced by planting a Candy Floss Trees along the length of College Street.
Councillor Iain McLaren commented: "The aim of these proposals is to improve people's impression of Dumbarton when they arrive at the station after a train journey, walk or cycle and make it easy for them to orientate themselves and identify the route to the places which they want to get to."
An online consultation will run through December during which feedback can be provided on the proposals, which have been prepared by landscape architect Matt Benians and New Practice.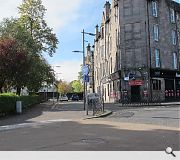 Cars will lose their dominance of the streets with the design favouring pedestrians and cyclists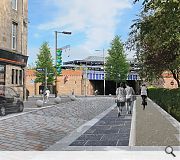 Colourful glass discs could decorate new lamp standards
Back to December 2020