Coatbridge & Motherwell tower block demolition timetable set out
November 30 2020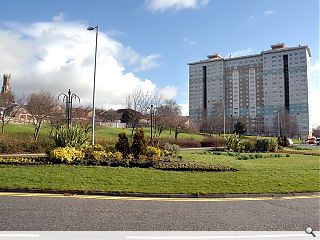 North Lanarkshire Council has agreed a timetable for the demolition of seven high-rise blocks in Coatbridge and Motherwell.
The two-year regeneration programme comes in tandem with 5,000 new low rise homes.
Burnside Court in Coatbridge will be first in the firing line with preparatory works taking place in January; followed by Coursington, Allan and Draffen Court in neighbouring Motherwell by the spring. Rounding off the current phase of works will be Jackson Court, High Coats and Dunbeth Court which will meet their fate in spring 2023.
Stephen Llewellyn, head of housing solutions for the council said: " "A crucial aspect of moving our tower plans forward has been working with our tenants to reduce the number of people living within blocks identified in our first phase programme.
"Of the initial 1,750 properties identified, we now have 1,127 empty flats and we have agreed future housing options with the vast majority of people currently living in those homes." The works form the first phase of a 25-year masterplan to demolish all 48 high-rise blocks across the local authority, a process begun by the demolition of three towers in Airdrie.
Back to November 2020