Airdrie council housing stock witnesses dramatic change
August 27 2020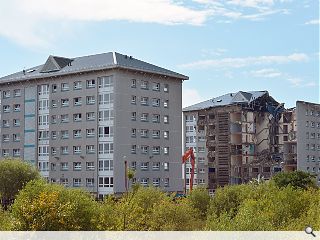 North Lanarkshire Council has begun the demolition of three Airdrie tower blocks, part of a broader masterplan to deliver 5,000 new council homes by 2035.
Central Demolition has been called in to take down the three eight-storey blocks in the Holehills district using long-reach machinery, removing 138 homes from the town's skyline.
This will allow 55 replacement homes to take their place on the same footprint, with scope for a further 158 homes to join them in the years ahead.
Councillor Pat O'Rourke said: "The demolition of these towers is a significant step forward in our ambition to improve local housing. It will be fantastic to see the new homes available for rent in the years to come and providing quality housing for people in Airdrie."
The regeneration initiative forms part of Plan for North Lanarkshire, a template for replacing high-rise homes with modern low-rise accommodation - particularly in Cumbernauld.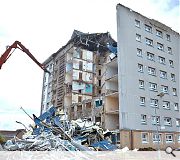 Airdrie's skyline is entering a period of dramatic change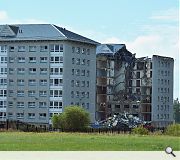 The Cheviot, Merrick and Pentland court blocks are being felled simultaneously
Back to August 2020