Grassroots Tayport community centre beds in
November 24 2020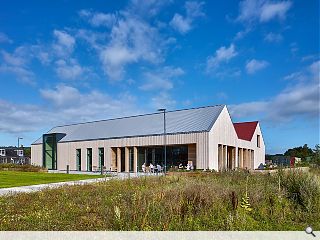 Tayport Community Trust have taken possession of a brand new community centre overlooking the Tay Estuary following delivery by Collective Architecture.
The Larick Centre sits on a three-acre site bounded by no less than three Sites of Special Scientific Interest. Latterly home to a steel fabrication shed the land was gifted to the trust for the provision of a much-needed social hub and sports facilities.
Reusing the mass concrete slab of the former factory as a raft, the community-run centre overtly references its industrial past while enhancing the biodiversity of its surroundings through indigenous planting.
Utilising a simple gabled form the facades invite entry to a central reception through an arcade and recesses, opening out onto a multi-use main hall as well as smaller spaces configurable by movable walls. The hub of the Larick Centre is a cafe, open to adjoining interiors through glazed screens.
Project architect Mairi Laverty commented: "The brief was both challenging and inspiring, ensuring that proposals could readily adapt to meet the changing needs of the local community."
Attention will now turn to delivery of a second phase of work which will see an amenity building and 32 pitch campsite erected. Fully grant-funded the hub cost £2.3m to build with the project team including RYBKA, Armour Construction Consultants and David Narro Associates.
Back to November 2020