Tayport community hub goes in for planning
November 6 2015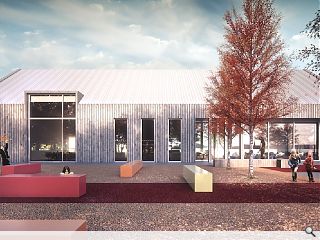 Collective Architecture has submitted plans for a new community hub at Tayport, Fife, offering a range of spaces for sports, arts, business and tourism.
Located next to three Sites of Special Scientific Interest the hub will 'lightly' meet the surrounding landscape with two conjoined pitched blocks inspired by an agricultural barn.
One of these, housing community and tourism facilities, will host two levels of accommodation faced with vertical silver grey Scottish larch cladding beneath a silver corrugated roof.
A larger sports block will be finished in uniform metal cladding in reference to a former steel works which once stood on the site and is intended to reflect dappled woodland light when wet.
The plans are being taken forward by Tayport Community Trust following their purchase of the 1.2 hectare site at a discounted rate.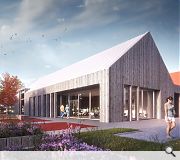 The £1.9m build is being backed by the Big Lottery
Back to November 2015