Industrial heritage to live on at Shrubhill Tram Depot
November 20 2020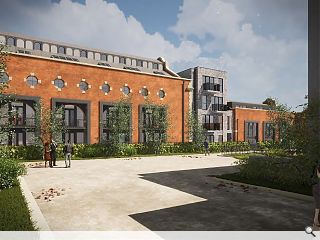 LDN Architects have come forward with revised proposals for a former tram depot at Shrubhill, Edinburgh, on behalf of Places for People.
The Engine Yard is already under construction and occupies a B-listed factory complex bounded by Dryden Street and Spey Terrace, abandoned since the late 1990s, of which all that remains are two red brick sheds, boundary walls and a chimney stack.
Planning had been granted in 2018 for a new building to bridge the void between both sheds but this has now been withdrawn in favour of more sympathetic interventions.
In a statement, the applicant wrote: "In our view, the previous scheme was rather unsympathetic to the buildings. It proposed new big openings on the west and east elevations that would have had a significant and negative impact on the original fabric. In our proposal, the new openings will reflect existing internal features."
A structural assessment of steel trusses found repair to be uneconomic and so new roofs will be built, retaining only central iron trusses in place which held up the roof lantern. New homes will abut existing brickwork of both the 'big' and 'wee' sheds with a full-height atrium left in the space between. These will be joined by a modern brick 'gap' building in the space between both.
Explaining the desire to signal a modern chapter in the history of the site LDN added: "The Gap Building complements the light-touch approach taken in the Big and Wee Sheds with a calm contemporary brick design. Slightly set back from the side elevations of the existing building, it emphasises the quality of the existing buildings and the modern character of the Gap Building by subtly separating old and new."
In all 43 homes will be created on the site from studio apartments through to three-bedroom flats.
Back to November 2020