Erz lodge planning for Mount Florida public square
November 20 2020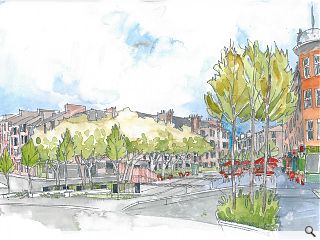 Moves to reconfigure a congested traffic island outside Hampden Stadium have crystalised in the form of a formal planning application filed with Glasgow City Council.
The culmination of years of campaigning on the ground the project will see traffic confined to Cathcart Road and Letherby Drive, freeing up Carmunnock Road to host outdoor seating, planting and art.
Announcing that the project is now in the hands of planners landscape architects Erz wrote: "A project that prioritises people and community over cars - Erz has just submitted planning consent on behalf of Mount Florida Community Council for a new public square at Letherby Triangle outside Hampden Stadium.
"The square protects existing historic cherry trees but introduces rain gardens, natural play and community space. The scheme removes the end section of Carmunnock Road to create a large civic space for the Southside. A sculptural staircase to the cherry canopies alludes the name of the neighbourhood and acts a meeting space and bandstand.
"The project is community-led and has been the subject of extensive consultations over the last five years. The project is supported by Sustrans Scotland."
Environmental improvements will include new lighting, terrazzo artwork and bench seating.
Back to November 2020