Detailed designs unveiled for New Town 'urban hub'
November 17 2020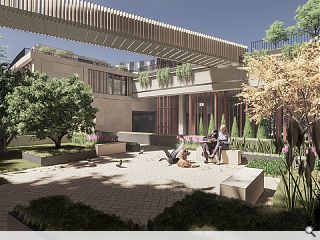 Ambitious designs for a mixed-use redevelopment of former Royal Bank of Scotland offices at Dundas Street, Edinburgh, have been showcased by 10 Design and Ediston Real Estate.
Following consultations the team alighted on plans for a high density 'urban centre' comprising a mix of shops, homes and offices with complementary public realm and a hotel.
Standing within the New Town World Heritage site the development juggles the need to sensitively respond to listed buildings while strengthening connections to King George V Park. Key to this approach will be establishing a sequence of landscape and amenity terraces to manage changes in level and transition between park and city, aided by the creation of new pedestrian and cycle routes.
Gordon Affleck, design partner at 10 Design, remarked: "The site has offered a unique opportunity to reconnect the park to the north and west of the city. Respecting both the sensitivity of its location with the New Town and the complexities of the physical restrictions of the site has proved challenging, however we believe the quality and diversity of the development uses and the new public realm will create a focal point and positive amenity for both the local and wider community."
The car-free environment will include a new public plaza lined by retail, cafes and bars from which community events can be held.
Back to November 2020