Hazelwood passes with distinction
|
Send to friend
September 23 2008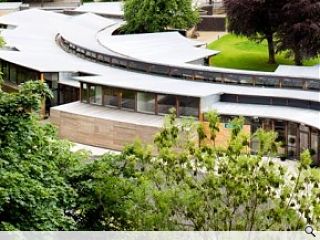 The award-winning Hazelwood School has followed up its architectural success with a glowing report from education inspectors in respect of the work conducted within.
The £6.8 million school, which caters for children with multiple disabilities, was given two "excellent" ratings and 10 "very good" in its first HMI report since opening last year.
Head teacher Monica McGeever was singled out for praise of her leadership qualities with praise lavished on the sector-leading facilities.
The quality of teaching in combination with the welfare and development of pupils whilst taking account of their dignity was attributed to this success. As was an ethos of promoting achievement and fostering relationships with parents.
Design features of the building, which include tactile walls that allow visually impaired pupils to "feel" their way around the school unaided, were highlighted by the inspection team.
The report states: "Hazelwood School provides a high quality of education and care for its pupils within a vibrant and inclusive learning environment. The skilled and highly motivated staff provide stimulating learning experiences and effective support for the school."
Monica McGeever said: "It has been a year of radical change for everyone with the opening of the new school, and this report recognises not only the impact of the new building but the high quality of educational experiences we are providing for our children and young people."
Back to September 2008