Tremendous 'feet' for architects
|
Send to friend
September 23 2008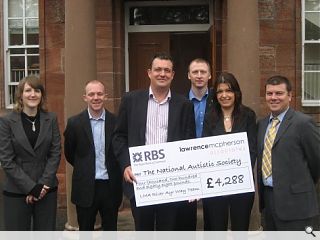 Lawrence McPherson Associates are nursing their aching muscles and blistered feet after raising £4288 from a charity walk.
Partner Steve McGhee presented Laura Battles from the National Autistic Society with a giant cheque at Daldorch House School and Continuing Education Centre in Catrine, after the team completed an epic 50 mile walk in a single day.
Starting at 5am in the morning, the team walked from Glenbuck along the length of the River Ayr to the sea , arriving home at nine o'clock at night.
Steve McGhee, Partner at Lawrence McPherson Associates, said: "It was exhausting and everyone has been limping round the office because of blisters and aching muscles but the sense of achievement at the end was worth all the effort."
He added: "The team are delighted to have raised so much money and we have more than exceeded our target. Special thanks must go to Poole Dick Associates, Dickie and Moore Ltd, Stewart Milne Group, Neilson Binnie McKenzie, CDM Scotland Ltd and Hodgins Smith Partnership who were among the many who supported us".
The money raised by Lawrence McPherson Associates team will go towards vital NAS Scotland services including Daldorch House School and the team were delighted to be given a tour of the facility following the cheque presentation.
Steve added: "We are delighted that the money we have raised will help to support facilities such as Daldorch House School which provides such valuable care and education for young people affected by autism."
Daldorch House School and Continuing Education Centre is an independent, residential and day, special school managed by The National Autistic Society (NAS). It is the sixth school to be established by the NAS and is the first 52-week autism-specific residential school in Scotland. The children and young people have a wide range of abilities, additional support needs and a primary diagnosis of an autistic spectrum disorder (ASD). The school provides a fusion of care and education across 24 hours for children and young people from five to 21 years
Picture caption: "Lawrence McPherson Associates' team of walkers Kirsty Cassels, Barry Kerr, Steve McGhee, Jim Shoebridge and Alan Law present Laura Battles of NAS (front second from right) with a giant cheque."
Back to September 2008