BREEAM award in Aberdeen
|
Send to friend
September 23 2008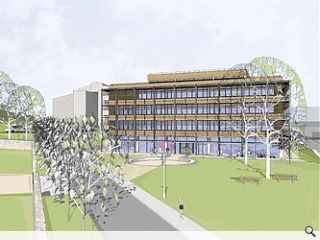 The Suttie Centre for Teaching and Learning in Healthcare, designed by Bennetts Associates, has received a Building Research Establishment Environmental Assessment Method (BREEAM) award which recognises the UK's top examples of sustainable design.
The building received the highest national rating of Excellent in the Bespoke category which was awarded at the BREEAM 2008 Award Ceremony at the Earls Court, London on 18 September 2008.
The new medical education and clinical teaching centre is currently under construction at Foresterhill. The building is being created through the Matthew Hay Project, a partnership between the University of Aberdeen and NHS Grampian which aims to develop first-class facilities for training health professionals and doctors.
Some of the building's environmental features include:
• An exposed reinforced concrete frame which helps to maximise the benefits of thermal mass
• A highly efficient façade system
• A rainwater harvesting system which collects rainwater and is used to flush WCs
• A building management system to monitor plant items and energy consumption
• Low carbon technologies and passive renewables to reduce energy demands and reduce carbon footprint
• A design which maximises the controlled use of natural daylight.
Angus Donaldson, Director of Estates, University of Aberdeen said: "The University of Aberdeen recognises the need to incorporate opportunities for sustainable development into construction projects. This is the first new University building to go through the BREEAM process. We have worked very closely with the design team and the BREEAM Assessor and are therefore delighted to achieve the highest national rating of excellent for the Suttie Centre for Teaching and Learning in Healthcare."
"The centre showcases the ability of the University to develop buildings where environmental concerns are given high priority throughout the procurement process. From the reduction of energy demands to the use of systems which maximise natural energy resources, the design elements of this centre set a high benchmark for future construction projects undertaken by the University."
Back to September 2008