Hawick hopes hinge on shared workspace vision
October 30 2020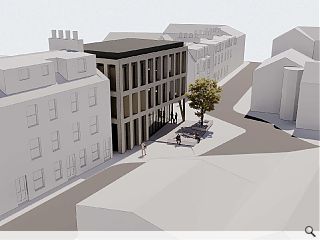 A disused department store in Hawick is to be brought back to life as office accommodation at the hands of Aitken Turnbull following submission of revised plans for the local landmark.
A value engineering exercise led by Scottish Borders Council has resulted in a reconfiguration of 2018 proposals for Almstrongs department store to provide more open, shared collaborative workspaces while reducing the built footprint. This will allow a more generous area of public realm to be established at the front of the building focussed on a small square.
Located on a 'hinge point' on Oliver Crescent the proposed offices will be set back from the street at ground level to continue the building line along a glazed curtain wall, establishing a clear covered entrance area in the process.
Outlining their revised proposals the architects wrote: "The scheme provides a solidity and mass with depth to the window reveals echoing the surrounding stone buildings. There is a verticality in the proposals, again referencing the vertically aligned windows of the adjacent tenement buildings.
"A simple repeating pattern of solid and void is continued around all elevations, ensuring there is consistency of approach and an equality of treatment to all views."
A textured concrete panel facade system has been chosen to marry with surrounding stonework with anodised aluminium infill panels. An expressed roof element will be finished in dark grey panels in a nod to the slate roofs of its neighbours.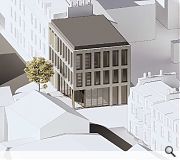 New offices will occupy the footprint of the former retail building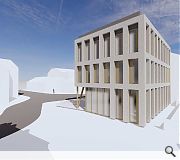 The site has already been cleared and made safe
Back to October 2020