178 studio apartments lined up for prominent Dundee junction
October 30 2020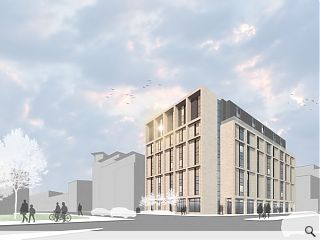 A disused petrol station on Dundee's West Marketgait has been taken on by Crosslane Group who have submitted proposals to build 178 studio flats for students.
Situated in the industrial Blackness conservation area at the junction with Ward Road and Johnstone Street, close to Abertay and Dundee universities, the project will house an on-site gym, dining areas, cinema and study areas.
Overseen by Maith Design accommodation will be set behind a brickwork grid broken by a standing seam rainscreen system is proposed for the facades separated by glazed elements.
In an accompanying design statement, Maith wrote: "The scale and relevance of the site and existing buildings, as it currently stands, creates a void and a break within the urban fabric preventing it from both defining the urban block and relating it back to its immediate context. The central concept of the design and massing of the proposals is to integrate this site back into the urban fabric of Dundee."
Addressing an area of green space to the immediate north the development the design seeks to reinstate an urban corner along two principal frontages proportional in scale to surviving mills. At ground level, a setback building line will accommodate a pedestrian zone, access and active frontages.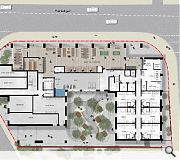 A streetfront collonade will enhance the pedestrian experience along West Marketgait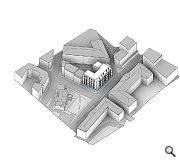 The robust build will complete a prominent junction
Back to October 2020