Planning sought for upscale replacement Broxburn home
October 26 2020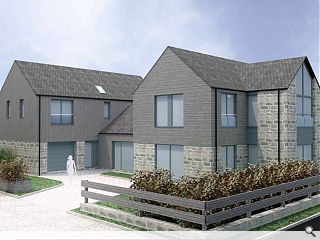 Proposals for a replacement rural family home in Broxburn by Iain Gaul Architects have been posted by City of Edinburgh planners.
An existing 1970s property at Totley Wells Lodge will be demolished in favour of a much larger new build home composed of two conjoined rectangular blocks, each of which will have a single storey glass extension, linked by a single-storey office.
Evoking traditional forms the pitched roof structure will be finished in painted timber and stone with interior spaces centred around a double-height dining hall overlooked by a first-floor balcony and a connected games room and living area.
In a planning statement, the architect wrote: "The site is located adjacent to a quiet country road but is in a prominent position at a bend in this road and consequently is highly visible. As a result, the design of the elevation facing towards the road has been carefully considered with a symmetrical elevation provided with the main feature being a large central projection, finished in stone with a large glazed area which extends to the apex of the roof. This large glazed area will allow the occupants to benefit from the attractive views over the farmland to the north."
Two mature trees and the majority of an existing beech hedge will be retained as part of the work.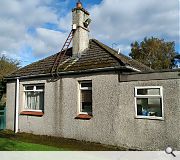 The existing house is in a poor state of repair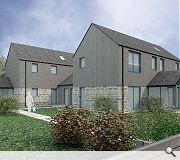 Twin sun rooms will maximise views across surrounding farmland
Back to October 2020