Textured tower to thrust its way onto the Portobello skyline
October 23 2020
A laundry and water tower once belonging to Portobello Swimming Baths has inspired a vertical seaside residence which takes its cue from the pattern of sand grains on a nearby beach.
The current water tower will be demolished but not forgotten under the plans, serving as inspiration for a new studio space and garage, with a single residence arranged over upper floors.
Textured concrete is envisioned for the thrusting home, encoding a pattern of tracks and dimples as the building reaches for the sky through four floors. Amenity space will be provided in the form of a rooftop terrace and gardens, affording vistas down Pittville Street Lane towards the promenade.
In a planning statement, Haar wrote: "Through referencing a combination of datums from the existing water tower and the contextual surroundings of the beach the proposed concept for the tower will inform both the form and the materiality.
"Concrete formwork inspired by the tracks and dimples in the sand can be used to reference the existing materiality of the tower whilst encompassing the towers context."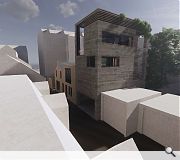 Stone laundry buildings will be retained and repurposed as an office with living accommodation above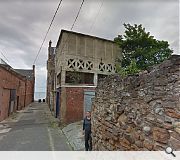 The form and materials of the water tower will live on in its new guise
Back to October 2020