Fabric first Edinburgh home on the fast lane to a low carbon future
October 23 2020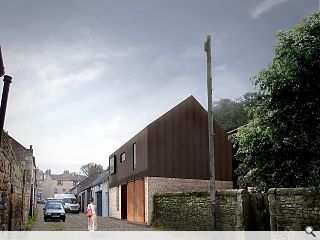 A disused garage in Edinburgh city centre could play host to a bespoke low carbon home if plans just submitted by 7N Architects are realised.
An unprepossessing brick structure on Spey Street Lane, just off Leith Walk, would be replaced by a high performance insulated timber structure with triple glazing and packed with energy-saving systems such as solar panels, mechanical ventilation heat recovery and an air source heat pump.
Future occupiers will benefit from a double-height living space and mezzanine to the rear with bedrooms split over two levels behind the lane frontage. At first floor level, a raised courtyard is provided between these spaces to draw light and air into the heart of the home while maintaining privacy.
In a press statement, the architects wrote: "The exterior reflects the character of the lane with a rough-hewn stone base adjoining the existing stone garden walls and a metal sliding shutter similar to those found along the lane at the entrance. The upper storey and double-pitched roof will be clad in standing seam copper."
The project team includes David Narro Associates.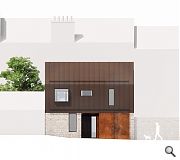 Robust materials including a dramatic metal shutter have been specified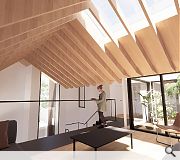 Rooflights and a secluded first-floor courtyard flood the interior with light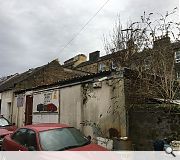 The existing garage will be cleared, symbolically severing links to a car dependent past
Back to October 2020