Crail Watch House transformation pushed back to 2021
October 22 2020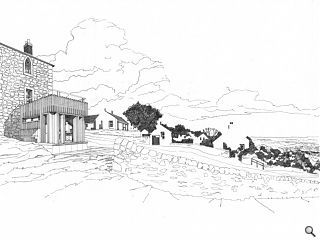 Alan Dunlop Architects are to refurbish a C-listed coastal property on the edge of the Crail conservation area in Fife, on behalf of an American client.
The Watch House controlled the supply of grain, goods and water coming into Kings Mill and will now serve as a private home. This will entail demolition of later additions to the front and rear to be replaced by new single and double-height extensions.
Dunlop said: "The Watch House project is the renovation of a 250-year-old listed structure in Crail, on the East Neuk of Fife and a landmark on the Fife Coastal Path. It's a spectacular site and the building looks onto the North Sea and over to the Isle of May National Nature Reserve. On a clear day, and there are many, you can see down to North Berwick."
Renovations had been due to commence this year but have been delayed due to the onset of Covid-19, as Dunlop explains: "The project received planning permission and listed building consent at the turn of this year. The drawings are the original planning drawings. I was in the process of forming a design team for the next stages, preparing a building warrant and construction detail and tender drawings when the lockdown started. As a double whammy, my client is a New York-based financier, in April New York became the epicentre for Covid-19 in the US and she has been grounded there since. We hope to start again, fingers crossed, in 2021 and complete in 2022."
New additions such as a dining room and rainscreen veil will employ either oak or ash which will weather and age with the original building over time.
Back to October 2020