Stirling care home goes it alone following planning rebuttal
October 20 2020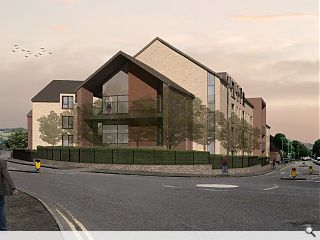 Northcare and Unum Partnership have come forward with proposals to erect a 71-bed care home at Lower Bridge Street, Stirling, jettisoning a larger masterplan in the process.
A 'visually incongruous' masterplan for the area was turned down by Stirling Council in August after concerns were raised over the detrimental impact of student housing on the area and a lack of off-street parking.
Now the applicant will solely progress the care home element of that broader scheme, delivering a cranked T-plan design that maximises utility of the triangular junction.
Explaining their design rationale Unum wrote: "This simple form is articulated with a series of smaller protruding boxes. These reduce the perceived mass of the building and provide articulation at important junctures to ground the building within its context. They also articulate prominent gables and form important vistas looking into the site from adjacent streets.
"A protruding box at the main entrance helps to highlight this and protect it from the elements."
Offering residents a high standard of living the home will include a cocktail bar and external terrace as well as a cinema and cafe. A north-south pedestrian route will also be established.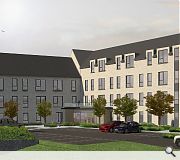 The 0.75 acre site is currently occupied by public gardens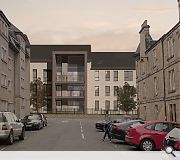 The sensitive site sits beneath the castle and borders a conservation area
Back to October 2020