Forresterhill mortuary emphasises dignity and domesticity
October 20 2020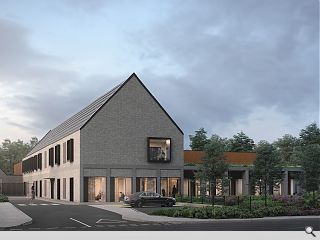 NHS Grampian, Aberdeen City Council and the University of Aberdeen have come together to deliver a new mortuary to replace two existing facilities in the city.
Serving North East Scotland and the Northern Isles the integrated mortuary has been led by Keppie Design to provide dignity for the deceased, provide additional capacity to support civil contingencies and support forensic science.
The 2,930sq/m facility is earmarked for undeveloped land to the south-west of the Forresterhill Health Campus along Westburn Road, where site constraints necessitating the accommodation be split over two levels. This has informed a design which allows service spaces such as the main entrance, atria and storage to be 'taken over' during a major incident.
Evolving concept plans by Mackie Ramsay Taylor the finalised design following a changed client brief including access to an adjoining green space and need for a more domestic scale.
Project architect Jamie Laurence said: "Central to the design solution is the requirement to improve privacy and dignity for the bereaved and to create a welcoming environment for their families. Public and visitor facilities are located within a single storey wing that provides tranquillity and privacy in a domestic scaled environment with internal private garden courtyards and links to the adjacent greenspace project.
"Finished in facing brick with pitched roofs, the facility will provide integrated mortuary and post mortem facilities in a high quality building and will be an attractive addition to the surrounding hospital campus."
Post-mortem facilities will be concealed behind single storey bereavement services all accessible from a single linear route.
In January plans were brought forward for a £53m elective care centre for which construction is expected to begin early next year.
Back to October 2020