Us V Them perk up Glasgow's Gallowgate
October 16 2020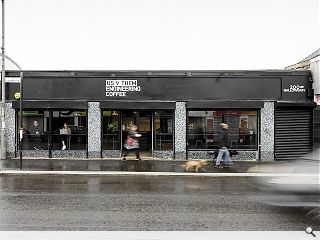 A Glasgow based coffee house has established its new headquarters at 200 Gallowgate following the transformation of a disused retail unit.
Us V Them: Engineering Coffee was founded in 2017 by engineer James Aitken and combines an espresso bar with a workshop for the servicing and repair of coffee equipment.
Designed by O'DonnellBrown Architects the 120sq/m cafe fuels the burgeoning creative community around the Barras, having been stripped back to the bare bones to celebrate the raw materials of the former tenement.
Aitken said: "Our café/workshop is minimalist and clean with the full focus on the engineering and craft of coffee making. So much goes into creating a consistently good cup of coffee, and we aim to highlight this within our space. If a café is run well it can be invigorated by public support and we are keen to make a space that brings people together under one common bond, great coffee."
Built for £38k plus VAT the project sees perimeter walls clad in dark stained wood panelling. Manufactured off-site by ThreeFourFive Joinery this doubles as a convenient ledge for customers seated at socially distanced high stools to gather.
The industrial aesthetic is augmented by exposed steel columns and ceiling services and a copper cage offering glimpses of a backroom workshop.
Back to October 2020