New Urbanism lives on at classically inspired Grandhome public square
October 8 2020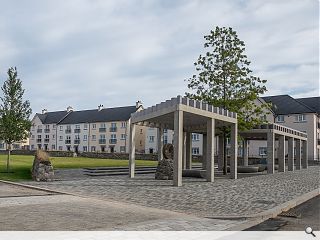 The first neighbourhood of a planned 7,000 home community at Grandhome near Aberdeen has been anchored with the unveiling of a multi-purpose outdoor space.
Davidston Square has been designed by Reiach & Hall Architects to serve as the heart of the estate, dominated by a geometric pavilion which references both northern and classical Greek Architecture.
This will serve as an outdoor seating and meeting area and will be made available for events. Among the features of the new public space is a cairn mounted with a millstone retrieved from the land, serving as a tangible link to the areas rural past. A feature pin oak tree has also been planted in memory of David Paton, founder of Grandhome.
Neil Gillespie of Reiach and Hall Architects said: "The construction of Grandhome to the north of the River Don sees a new community gradually begin to settle upon land that has been cultivated for many generations. Davidston Square is a generous new public space that serves these new residential clusters with a simple space of open lawn and trees, bounded by field stone dykes and to its southern boundary, a pavilion structure. The square and pavilion will offer new residents and visitor alike the opportunity to gather and converse or simply a place to pause and reflect."
Adhering to New Urbanist principles Grandhome accommodates double the minimum green space requirements, retaining 'wild' areas in the landscape which can be accessed from a network of parks, playgrounds and sports fields.
Phase one of Grandhome constitutes 600 homes.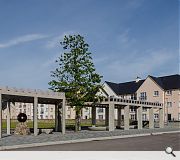 A commemorative oak tree has been planted to remember David Paton, the 9th baron of Grandhome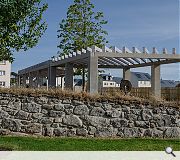 The square is bounded by fieldstone dykes and a community pavilion
Back to October 2020