Hazelwood's doors open to over 1000 visitors
Send to friend
* Required fields
|
Send to friend
September 22 2008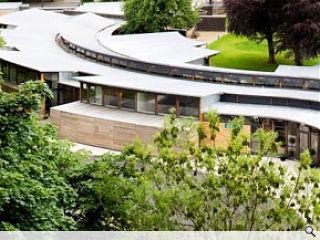 Hazelwood School in Glasgow is celebrating the success of their Doors Open Day event, which exceeded all visitor expectations.
"We were overwhelmed at first but delighted by the number of people who came along" says head-teacher Monica McGeever. "This is the first time the school has participated in Doors Open Day and we had really no idea what to expect. We thought maybe twenty people would turn up but were staggered when people kept arriving and humbled by comments and the popularity of the school"
Architects Alan Dunlop and Stacey Phillips, of gm+ad described the brief and explained the development process involved in the design of the school and then, with Monica McGeever and depute head teacher Jane Eyre took people around on guided tours every hour. "It was exhausting" adds Dunlop "but very rewarding, all the comments were very positive indeed. All in all it was a great day."
This success follows a win for Hazelwood School in the Chicago Athenaeum Museum of Architecture and Design International Architecture Award for 2008.
Photography by Keith Hunter.
Back to September 2008