Big response to big appeal
|
Send to friend
September 19 2008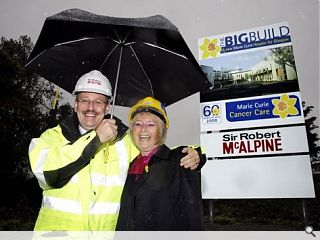 This Big Build Appeal is celebrating the sourcing of some £10.5 million towards a £16 million hospice appeal. The Appeal has been furiously fundraising over the past two years to raise the required capital to complete the project.
This funding milestone has encouraged Marie Curie Cancer Care to sign contracts (Wednesday 17 September) with Sir Robert McAlpine, signalling the next step in building a new hospice for Glasgow. The Sir Robert McAlpine group will be in charge of the construction of the new building which will provide future care needs for the residents of Glasgow and beyond.
Maggie White, assistant director, hospices, Marie Curie Cancer Care said: "The signing of this agreement marks a significant step in our commitment to provide a better care facility for the people of Glasgow. The new hospice has been designed with the needs of patients, their families and staff at the core, and we are confident that the new facility will meet the end of life care needs of patients in the Glasgow area well in to the future.
"We still have just over £5.5 million to raise to reach our fundraising target for the new hospice and we urge anyone who can to get involved with our fundraising activity. The new hospice will ensure free quality care for the people of Glasgow well in to the future and as construction now begins on site everyone will be able to see where their vital fundraising effort is going."
Boyd McFee, regional manager, Sir Robert McAlpine said: "We are delighted to be involved with Marie Curie in the development of their new hospice in Glasgow. Works are proceeding well on site with the superstructure having started and groundworks well advanced. We look forward to continuing our close working relationship with Marie Curie to ensure timely delivery of the new hospice."
Further information about the appeal can be found on
www.bigbuild.org.uk
or calling 0141 531 1383.
Back to September 2008