Boomview Court
|
Send to friend
September 22 2008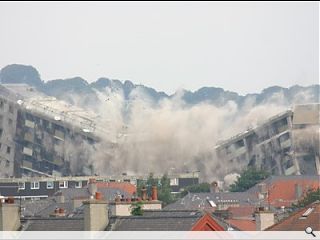 Broomview Court within the Sighthill district of Edinburgh was brought down in spectacular fashion on Sunday.
Ian Begg, a long time resident of the estate, pulled the plunger on his former home with city housing leader, Councillor Paul Edie.
Begg moved into the newly constructed Broomview Court in December 1967 where he continued an unbroken tenancy through to last August 2007.
Councillor Edie said: "The blowdown was a truly spectacular sight and it all went like clockwork which is credit to everyone involved in the operation.
"I know that many people will have fond memories of Broomview Court but now we can look to the future as we drive to create new homes for the 21st Century."
Photography by Raymond Kay.
Back to September 2008