Garden plot brings home opportunities in Edinburgh suburbia
September 24 2020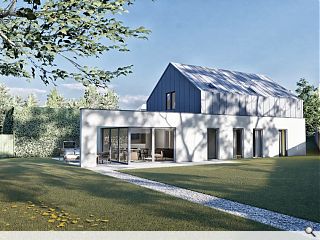 Proposals for a new build home to the rear of Essex Road, Edinburgh, have been authored by J A Leask Architects, made possible by subdividing an existing garden.
A corner plot to the south of the extensive gardens has been identified as suitable for a four-bedroom property while still retaining a large garden to the west of the current property.
With an access road already in-situ this site, currently in use as a concrete parking bay, lends itself to development, with a change in level further enabling the home to bed down within the landscape.
In a planning statement, the architect wrote: "The form of the house maintains a relationship to the surrounding vernacular styles while being expressed as a new element.
"The roof has been expressed using standing seam zinc to again minimise the visual impact from the existing garden, with vertically lines drawing the eye upwards away from the house towards the surrounding foliage."
Visually split between a standing seam zinc roof and white, smooth cast render the property seeks to establish a contemporary aesthetic in its suburban context.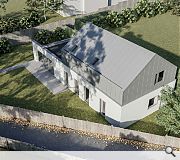 Large format picture windows make the most of garden views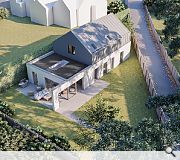 The garden plot benefits from established access
Back to September 2020