Botanic apartments promote 'living in the park'
September 7 2020
Nevis Properties has teamed up with Haus Collective to deliver 39 apartments topped by a rooftop amenity space on vacant ground at Queen Margaret Drive in Glasgow's west end.
The Botanic Apartments will step up to seven floors and incorporate a basement parking level for 27 vehicles accessible by a car lift from Kelbourne Street. Occupying one corner of an urban block containing an outdoor play park the North Kelvinside scheme lies outside the West End conservation area on land last occupied by a church before its demolition in the 1980s owing to subsidence.
In a statement, the applicant wrote: "The existing derelict site will be cleared to facilitate the creation of a vibrant, dynamic development promoting liveable urban density. Proposals embrace the constraint and opportunity presented by this urban site, whilst protecting and enhancing the wider urban context."
Standing as a 'gateway' to the west end the chosen design solution seeks to juggle high-density housing while minimising overshadowing of the park, resulting in a stepped massing profile.
All apartments will be afforded a recessed balcony with two active rooftops serving to further cement the 'living in the park' concept.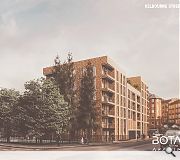 The corner block will re-establish the street edge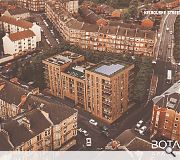 Tiered rooftop open spaces will promote outdoor living
Back to September 2020