Linear mews home to marry copper and brick
September 2 2020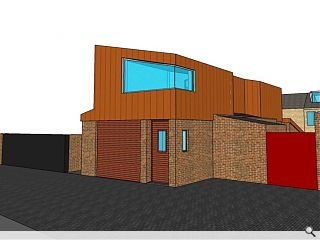 Unlimited Studios have scaled back extant proposals to erect a subterranean house at 2 Botanic Crescent Lane, Glasgow, with a more cost-effective design.
Driven by a desire to pare costs the revised design adopts a more conventional above-ground approach of two storeys that is in harmony with existing lane buildings.
The revised approach is for a two-bedroom home and garage on a narrow plot dropping 4m from the lane to the parent B-listed terrace.
This will see the entrance and garage located towards te north-east boundary with an accessible shower and dining kitchen at lane level. Accommodation then drops down to a sedum roofed living space at garden level all finished in facing brick under a copper roof.
In a statement, Unlimited Studios wrote: "Although the permission for a garage and subterranean house remains valid, ongoing economic constraints have prevented the development of the approved scheme. With the approval of other characterful developments in the area in previous and intervening years, and with continued demand for local housing, we propose a new design, the construction of which is more economically viable."
The application follows a 2016 bid by Stallan-Brand Architects to build four private dwellings on the lane.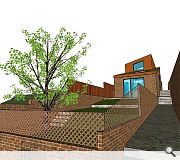 An existing plum tree will be maintained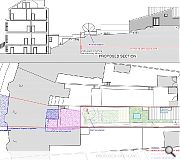 The Botanic Crescent frontage was converted to flats in the 1970s
Back to September 2020