Inverclyde nursery seeks to close the attainment gap
August 28 2020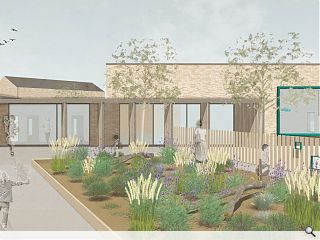 Inverclyde Council is to begin work next month on a £2.4m extension of the Rainbow Family Centre, Port Glasgow, as part of efforts to close a wealth-based attainment gap.
Developed by Hub West Scotland to designs by Holmes Miller the extension will link directly to the existing centre, which will remain open for the duration of construction by CCG.
Councillor Jim Clocherty said: "High quality early learning is vital for combating the damaging effects of poverty and closing the gap between, how well children from poorer families do at school, compared to those from better-off families."
Iain Marley, CEO, hub West Scotland commented: "The design of the extension to the Rainbow Centre communicates well with the architecture of the existing facility, protects the public realm and minimises the impact of construction operations on the existing facility and surrounding neighbourhood."
The extension has been made necessary by a commitment to expand the provision of free early learning and childcare to all three and four-year-olds, in addition to two-year-olds whose parents are on a low income.
Back to August 2020