Pop-up bar to kickstart Edinburgh's stricken hospitality industry
August 25 2020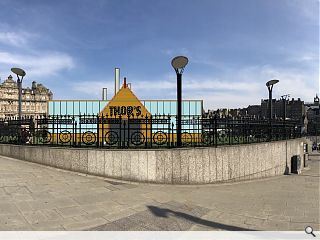 A Nordic-themed pop-up bar and event space is to return to the roof of Edinburgh's Waverley Mall, part of a seasonal takeover of the space for Christmas entertainment.
Running throughout the holiday season the event will see a bespoke glasshouse structure erected, this time joined by a series of canvas teepee tents and food trucks bedecked in festoon lighting.
The expanded offering comes at the behest of Moorgath Group despite the ongoing ramifications of the coronavirus pandemic.
In a planning overview, the applicant wrote: "With the recent pandemic halting many businesses, Waverley is keen to build an event on the space that will bring people back into the city centre, whilst adhering to social distancing and keeping safe. With the desire to keep as much product, staff and suppliers sourced locally, the event helps to get the hospitality business back on its feet.
"The glasshouse structure is a newly-designed build which has listened to previous comments from the planning department in Edinburgh.
"The perspective of our event from both the Princess Street and the Balmoral Street direction offers a sympathetic view and one that is not disrespectful to the listed buildings around."
The event space will open its doors to the public on 7 October and run through to 3 January.
Back to August 2020