Edinburgh concert hall strikes a discordant note as plans scaled back
August 20 2020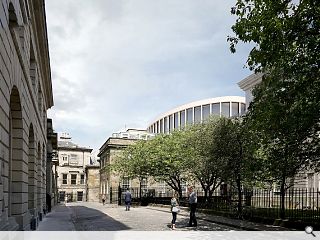 A high-profile planned concert venue in Edinburgh is to be significantly downsized amid a dispute with their New Town neighbours.
Edinburgh St James, developer of the nearby St James Centre, thwarted the original David Chipperfield plans, arguing that it was too overbearing- forcing Impact Scotland, the charitable trust behind the plans, to go back to the drawing board.
The scaled-back vision will shrink the capacity of the main hall below 1,000 as originally mooted while other elements such as a cafe-bar, rehearsal rooms and workshops could be dropped entirely.
A spokesperson for the charity said: "The design is currently at a very early stage and we look forward to consulting stakeholders as it develops and publicising it in advance of going to planning early next year.
"We are still considering several design iterations, all of which keep the hall's maximum capacity as close to 1,000 as is possible.
"To do this and meet the requirement to reduce the size of the whole building as agreed in mediation, means we will regrettably have to lose other aspects of the building, principally the studio."
As a consequence of these machinations the proposed opening date has been pushed back four years to 2025.
Back to August 2020