Richard Murphy lifts the lid on Edinburgh's newest crescent
August 6 2020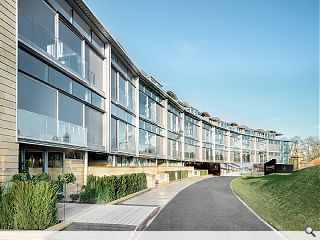 Richard Murphy has provided a personal perspective on the delivery of Edinburgh's newest crescent in the form of a home to home lockdown discussion.
Invited by CALA Homes to speak about the practices latest work at Donaldson's College, Edinburgh, Murphy explains the Georgian inspiration that led to a sweeping curve of modern accommodation appearing in the grounds.
Murphy said: "Obviously one doesn't want to make fake architecture, one wants to make something that is true to their own time and I also like the idea that buildings are rooted to their place.
"We need to make contemporary contributions to our townscape, which don't detract from the history of the site but that put them into new settings, enhancing them in a way that was not originally imaginable."
In particular, Murphy is pleased by the use of interlocking sections spanning four levels to combine double-height living areas with more compact mezzanine spaces, provision of rooftop gardens for penthouse occupants and expansive windows offering distinct views of the A-listed Playfair building, now being converted to apartments.
In all The Crescent provides 84 apartments set within 18 acres of established grounds.
Back to August 2020