Residential ambition harboured for Dundee Custom House
July 3 2020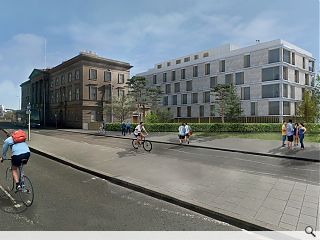 Planning and listed building consent is being sought to create 20 flats within Dundee's former Custom House and Harbour Chambers, alongside a further 29 flats in twin new-build blocks.
Languishing in disuse since 2008 the dockside property has suffered from recurring leaks, prompting owners Alicydon to pursue a new long term use for the structure.
Developed by jmarchitects the latest plans follow stalled attempts to open a hotel within the landmark and would see the A-listed building subdivided while retaining features such as Port Authority crests, plastered vestibules and timber panelling.
In tandem with these moves, two new buildings would rise, formed from brickwork panels and precast detailing these would flank the Custom House to the east and west, the former element rising directly from the current ground floor.
In a statement, the architects explained: "Our plan on this gable is to retain the lower single-storey facade and to develop a plan that uses the existing ground floor wall as the facade for a ground floor apartment which is then extruded upward into a 4 storey new build gable over the retained existing facade. Like the western gable treatment, we intend this new gable will 'twin' with the existing gable and form a new urban gateway marker in the city."
These designs will accommodate future development in the locality with a possible realignment of the site boundary, enabling the Custom House to serve as an eastern bookend for any Dock Street masterplan.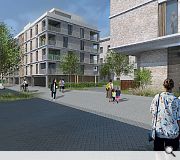 Alicydon acquired the property from Apex Hotels earlier this year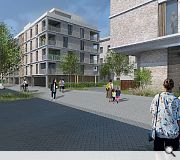 Calcutta Lane will be retained and incorporated within the site landscaping
Back to July 2020