World-first rewilding visitor centre planned for the Highlands
July 2 2020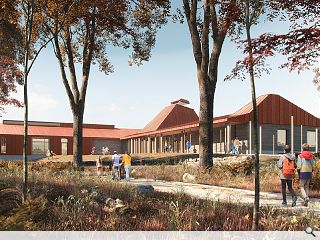 A Highland estate is to play host to what is being described as the world's first rewilding visitor centre under new plans submitted by Threesixty Architecture.
Led by Trees for Life, a charity dedicated to repopulating native woodlands, the innovative attraction expects to draw around 50,000 visitors to the 10,000-acre Dundreggan estate in Glenmoriston.
Inspired by Gaelic culture and surviving fragments of the Caledonian Forest the architecture mimics tree trunks with an irregular arrangement of collonades of varying diameters below a 'canopy' of sculpted roof lights and lanterns.
Steve Micklewright, Trees for Life's chief executive, said: "Dundreggan Rewilding Centre will be a place for people from all walks of life to rewild themselves by exploring and enjoying a remarkable wild landscape in a beautiful Highland glen, and to spend time learning about the area's unique wildlife and inspiring Gaelic history."
£2m has already been committed to the project by organisations such as the National Lottery Heritage Lottery Fund and European Regional Development Fund but further support will be required before construction can begin in 2021.
Back to July 2020