Further student housing to accommodate the University of Edinburgh
June 30 2020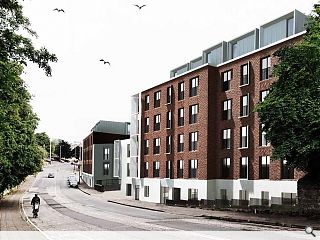 A new bid has been made to build 112 student flats at 200 Mayfield Road, right next door to plans for a further 148 beds (awaiting consent).
Once again led by Lanark Student Living and 56Three Architects (formerly known as Susan Stephen) the planning bid concerns a site overlooking Craigmillar Park Golf Course, close to the King's Buildings campus of the University of Edinburgh.
Detailing their design approach to the site the architect wrote: "The white precast plinth establishes a public back of pavement level and reduces the perceived building height sensitively in its context. The brickwork elevations are articulated with recessed panels and soldier course banding to accentuate verticality whilst offering a hierarchy of brickwork opening sizes.
"Careful white precast concrete details celebrate and express the corners along with selected windows to breakdown the facade. The playful 5th floor is detailed in light coloured zinc blending with the sky whilst maintaining and light and fresh appearance."
Stepping up in scale from its neighbours in line with a rise in the road the latest block includes a variety of roof features such as chimneys and dormers to provide skyline interest with expressed corners providing oblique views along Braefoot Terrace.
Back to June 2020