Aberdeen dons new coat
|
Send to friend
September 15 2008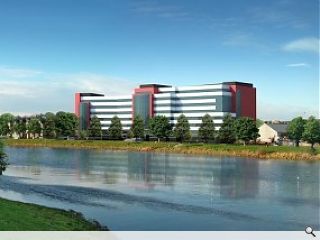 Aberdeen City Council has approved a detailed planning application submitted by Miller Cromdale, the joint venture partnership between Miller Developments and Aberdeen-based developer Cromdale Ltd, for its gateway office development, Ardent House.
Planning officials had been "disappointed" by the design of the T-shaped Ardent House building, but said its positives outweighted its negatives, including the creation of a dramatic entrance to the city.
Councillor Martin Greig suggested a design opportunity had been missed. "I think it's disappointing that the design is rather banal," he said. It does look a bit like a shoebox I think."
But committee members emphasised the economic benefits.
International energy services company, The John Wood Group PLC (Wood Group) will lease 150,000 sq ft of grade-A office accommodation within the 222,000 sq ft development set on a two-acre site at Aberdeen harbour close to the city centre. This move will enable the company to consolidate a number of its existing properties in the city within one of the largest office blocks in the north-east.
The Union Square development, which is currently under construction, will have a pedestrian link to the area, ensuring Ardent House and Miller Cromdale's surrounding office developments are fully connected to the city centre and only minutes walk away from the train and bus stations.
Pamela Grant, Director, Miller Developments, said: "We are delighted with today's decision from Aberdeen City Council. The office market in Aberdeen remains buoyant and we are confident in undertaking the 28,000 sq ft within the North Wing speculatively and are looking to pre-let the West Wing."
Start on site is scheduled for early 2009 with completion expected in autumn 2010.
Back to September 2008