Wilson's Weekly Wrap: Museum of Rampant Inflation, Mind the Gap & Acronymous Architects
|
Send to friend
September 15 2008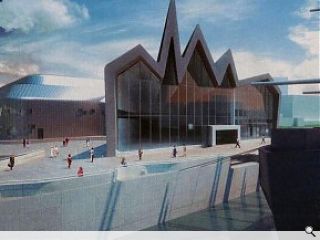 Museum of Rampant Inflation
Well, who'd have thought? A new report to Glasgow City Council's Finance Committee reveals that Zaha Hadid's Transport Museum in Glasgow is undergoing a further round of 'value engineering' to identify around £5m of cost savings. Lets not forget that the original budget was £50m – some £10m more than the starting point for the Scottish Parliament I'll agree, but still considerably less than was likely to be needed for this particular project, given the selected architect's track record on not quite matching design ambition to available dosh.
It seems a while ago now, but at the time of her appointment I wrote a comment piece in Prospect suggesting that there was no way the proposed Museum was going to be delivered within budget, a statement that drew the wrath of Charlie Gordon, the then leader of the City Council. Charlie was keen to use the city's resources to prosecute me for libel, a threat that understandably came to nothing since I hadn't written anything that could be construed as inaccurate. Mr Gordon's political career has of course taken something of a nose-dive since then, a fact not disconnected from an inability to read the details on cheques, a small point, I confess, that had I known then I would surely have placed a much higher estimate on the final contract sum. As it is, the project sits at around £85m, but only Rip van Winkle would believe that any real cost savings will be found or that it will be delivered within this price. Still, this being Scotland, a public building by an internationally recognised 'signature' architect that comes in at an (admitted) price of only twice its original budget will surely be presented as an absolute triumph. The future's certainly bright for Council Tax payers in Glasgow.
Mind the Gap
Scotland has of course to maintain its gold medal credentials for unwarranted profligacy on publicly funded projects, and the new Forth Crossing looks likely to be our next Chris Hoy in this particular event. Admittedly the budget is a bit flexible at present, even though there's not much of a gap between £3.2bn and £4.2bn for politicians, especially as we're talking about a completion date of 2016 – at least two Scottish Parliamentary sessions away and someone else's likely problem by then.
Attentive readers will recall mention over the past two weeks of little Denmark's desire to link itself to northern Germany by 2018 with a bridge budgeted at £3.5bn, a sum closer to the lower end of estimates for the short crossing planned here. Theirs of course will span a distance of 12 miles, a not inconsiderable engineering feat, and like its sister project in the north that connects Copenhagen to Malmo in Sweden, will carry trains and motor vehicles. Ours, by comparison, will require "extensive road alignments and multi-modal capacity" the latter including those City of Edinburgh Council obsessions, bus lanes, car-sharing and trams. By now, of course, your alarm bells should be ringing loudly – the rather short, developer-friendly tram line currently being installed in the capital is budgeted at a mere £624m, so stretching it all the way to the new bridge and across to Fife looks a sure financial winner for its engineers and a very long and lonely journey for the rest of us. Understandably, the cost question has been raised by the scions of prudence in the Scottish Parliament and John Swinney, the Finance Secretary, has pledged to find out if there is comparative information available on the cost of other bridges that he can provide to MSP's. I'm only a phone call away, John.
Acronymous Architects LLP, PLC, RIP
Oh dear, another Carrie Bradshaw moment. Walking down Edinburgh's Queensferry Road the other day, my attention was drawn to an RIAS signboard announcing the name of the architectural practice working on the building it was attached to. Except that it didn't. Three large letters in an ugly typeface was meant to communicate the firm's identity but even though I think I'm pretty well up on architects' names, this one was new to me. Only when I got closer did the small print reveal the full (or former?) name of the firm – step up to the plate Norman Gray and Partners, henceforth to be referred to as NGP Architects, presuming of course you can be bothered to remember the acronym.
It got me thinking about when was it exactly that architects began to feel their lives were incomplete unless they were as comfortably anonymous as accountancy firms. Is it a secret yearning to be able to charge the eye-watering level of fees generated by the KPMG's of this world, a hazy but unfulfilled ambition to be seen as big league players or, more worryingly, simply a desire to appear more 'modern'? Some will no doubt argue it is an aspect of succession planning, the transition from partnership to limited liability status and a necessary move from identification with particular individuals who have long since departed the firm, so why do I have the lingering suspicion that the practices that have chosen to make this move have acted on advice from their accountants?
Premature Evaluation
A few weeks ago I gently mocked the absence of any press coverage during the Festival period for Richard Murphy's proposal for a new centre for the Edinburgh International Film Festival, a hardy annual if ever there was one. My apologies - I wrote too soon. Just when I thought Autumn had safely arrived, lo and behold up popped two articles in the same edition of the Scotsman this week suggesting Murphy's design could be transplanted from its intended location in the laughably styled 'Festival Square' to replace the deeply unloved Argyle House in the Old Town's West Port. Now, since there are long leases to overcome and no imminent plans that I'm aware of to demolish the building, maybe it's just that Richard couldn't face a year without his scheme making a public appearance and therefore prompted the press coverage himself.
It could be of course that his impoverished 'clients', the Edinburgh Filmhouse and the city's International Film Festival are simply putting a marker down for a possible future location as well as hoping to secure some public funding largesse at a time when Creative Scotland is being spawned from the arranged marriage of the Scottish Arts Council and Scottish Screen. The other possibility - and this would be the real triumph for Murphy's 'Chinese water torture' approach to press coverage – is that the Scotsman has now diarised the project for late-Summer usage each year when there's not much other news around. If the latter, then I'm already looking forward to the project's appearance next year – perhaps Richard could hold a birthday party for it, although in truth it doesn't seem to have too many friends to send invitations to.
Its spelled H-U-B-R-I-S
No, that wasn't this week's Kerry Katona moment – this is. Richard secured two whole pages for himself in BD (Building Design to those of you still resistant to acronyms) to justify his Haymarket hotel design and generally rant about the forces of darkness and oppression that prevent him getting on with delivering his ambitions for Edinburgh. Now, while Bob Hope's old adage stated that all publicity is good publicity, it was coined in a pre-Katona age and in this instance I'm not entirely sure that the maestro will have gained many converts to his cause. Few indeed escaped the casual thrust of his rapier – Koichiro Matsuura, director general of Unesco took the brunt of it, but Reiach and Hall and even poor old jobless Trevor Davies, erstwhile chair of the City of Edinburgh Council's Planning Committee got it in the neck. It seemed particularly unfair on Reiach and Hall who, having been asked an entirely different set of questions when producing a previous masterplan for the Morrison Street car park site adjacent to Haymarket Station, unsurprisingly failed to address the issue of the railway tunnels under the site.
Our man in Fishmarket Close has proposed a radical solution, however – by not building over the tunnels at all the car park can become dedicated public space! This of course restricts the land available for the new hotel, ergo forcing it a mere 17 storeys skywards in order to make the overall costs stack up. Even at that, Richard feels it will probably only be a break-even project for the developer, Irish firm Tiger Developments. Clearly things work differently on the Emerald Isle and we have much to learn from this kind of developer philanthropy, but fortunately Murphy's loss-leader is balanced by three office blocks and another hotel, the latter by Sutherland Hussey Architects.
Somehow I can't help thinking that the international competition for the site held in 1994 (and sponsored by AR, sorry Architectural Review) showed nearly 300 different options and which was won by Oslo's Narud Stokke Wiig delivered far more for the city – not only was there new public space, there was a rail and coach interchange that integrated the tunnels and included escalator access down to the station platforms as well as providing a new architecture centre, all paid for by low rise office development on the site. In the end the project fell at a vital hurdle – people liked it.
Tip # 3 – Party like your next job depends on it
I had intended to explain the black art of p.r. planning this week, but for reasons entirely within my control it'll have to wait for another day. Similarly the promised update on the Caltongate project.
Instead we're going to get a little ahead of ourselves, viz to the conclusion of a commission. Truth is, too many architects fail to maximise the value of newly-completed projects. Perhaps its just the relief of final completion, the fact that no further fees can be extracted from the job or simply that relations with the client are not now all that they should be. Whatever – this tip begins from the premise that client relations remain good and that the project is now at its most pristine and will never look quite so good again once the client and/or the facilities manager begin to alter things. This is the moment when the new project needs to be shown off as widely as possible to encourage new enquiries or just to remind past and current clients that you have jobs other than their own and that your practice is thriving. Never mind that the building has secured coverage in the glossy architectural magazines – few potential clients read them – there is absolutely no substitute for the primary experience of a tour of a new project guided by its architect. Fellow consultants and friends too, shouldn't be omitted – they are, after all, your proxy public relations company and perfectly capable of recommending your services to their business acquaintances and even their own friends, presuming of course that they respect the output of your office.
Back to the client though – if things have gone well, they will hopefully be proud of their new property and reasonably responsive to the idea of you hosting a reception in it to celebrate your mutual achievement. A well-designed invitation and some reasonable food and drink are essential – the invite to confirm your practice's design ethos, the purvy to lubricate the celebratory atmosphere. And don't forget to dish out the marketing material when your guests are leaving – at the very least your business card, but more usefully a practice brochure and some simple memento of the occasion to keep your name in front of them long after the event has passed.
Organised properly, a reception needn't be expensive and should be tax deductible. Good examples include Liz Roxburgh's use of a recently completed project to announce her new business partner and the change of the practice name to Roxburgh McEwan Architects (see party pics on
website
) and Bennetts Associates' upcoming use of the new School of Informatics designed for Edinburgh University to highlight their first really big urban project on Scotland. Always remember the marketing maxim: it's easier and cheaper to secure further commissions from existing satisfied customers than to find new ones.
And finally…the Tapas Awards
Wrap regulars will know I'm not a fan of architectural awards, but having visited a whole host of new buildings recently I've decided a new one is in order to celebrate those projects that are either good in small portions and/or whose architect has had a little too much sun. Being an impatient sort, I plan to dish out these 'Tapas Awards' on an irregular basis rather than wait until the year's out. I'll try to remember to announce one each month then at the end of the year the best of these will receive the plaudit of plaudits, the Patata Brava Premio. As you'll appreciate it's a mouth-watering initiative and while Waitrose hasn't exactly agreed to be a sponsor, it will certainly be the source of the prizes. I'm happy to be directed towards worthy recipients, but no acronyms please as these could lead to confusion and awards given to the wrong people. The projects – built or unbuilt – can be anywhere in the country so, to paraphrase the immortal words of Wendy Alexander, "bring them on!"
Back to September 2008