Peter Morrison attacks architects 'old boys' club'
|
Send to friend
September 15 2008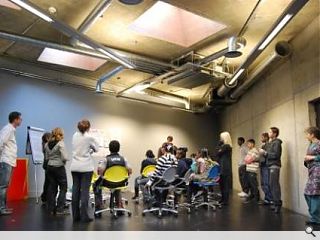 The head of one of the UK's biggest architecture firms is calling on the profession to get rid of its image as being the exclusive domain of white middle aged men – and to create opportunities for women and people from black and ethnic minority backgrounds.
Peter Morrison, CEO of RMJM, made the call as he announced a package of support worth £1 million for the Stephen Lawrence Charitable Trust.
According to figures from the OECD (Organisation for Economic Co-operation and Development), world investment in building and infrastructure is expected to exceed £53,000 billion in the next two decades – and Morrison believes the UK cannot afford to miss out on the opportunities presented by such growth. He is concerned that there will not be enough architects to meet world demand and is therefore looking to under-represented groups to help combat this shortage.
Speaking to the audience at the Stephen Lawrence Memorial Lecture, alongside acclaimed British designer Wayne Hemingway who is also supporting this issue, Morrison will tell the audience of 400 people involved in the industry: "I'm a white man approaching middle age and I had a comfortable upbringing - a lot like many of the architects working in the UK today. But the profession is not inclusive, it simply does not accurately reflect society in Britain today – as an industry we're remarkably short on designers from black and ethnic minority backgrounds."
He says the profession reminded him of an 'old boys' club'. And figures from the Royal Institute of British Architects (RIBA) show that only 2% of practicing architects in the UK are from black and ethnic minority backgrounds.
In terms of industry diversity, RMJM is ahead of the industry curve with over 6% of architects from black and ethnic minorities on its UK workforce. It is therefore championing the issue more widely amongst the industry.
He said: "It takes seven years to train an architect and, if we don't take a hard look at our profession and at how we recruit and train new talent from diverse backgrounds, UK firms won't be in a position to close deals on the big ticket projects in ten years' time."
Mr Morrison convinced the RMJM board to take action after a conversation with Doreen Lawrence OBE – the mother of Stephen Lawrence, a black teenager who aspired to become an architect but who was killed in 1993 – a victim of knife crime. The result is Architecture for Everyone – a campaign which will include workshops in Britain's inner cities designed to attract young people from all backgrounds and encourage them to explore their creativity in architecture, with six of the most talented youngsters winning scholarships to one of the world's most prestigious design schools at Harvard University in Boston, USA.
"We want to get more young people to think objectively about their environment and show them how they can change and improve it. Hopefully we'll persuade some of them that architecture isn't the unattainable profession it may seem and, with the help of the Trust, we expect to help some of them into architecture courses at UK universities," Mr Morrison said. "We need to change the industry from the inside out."
Back to September 2008